Taylors of Harrogate Decaffé Coffee Bags 3 x 10
Origin
The beans for Decaffé are grown in Central America and Brazil. And Mexico's where we do the decaffeination. The technique we use is the Pure Water Process, which doesn't involve nasty chemicals. Instead, water enriched with natural coffee compounds draws out the caffeine. Yes, it's slow and has to be repeated again and again, but it's worth it.
Taste
You won't be alone in finding this a thoroughly satisfying and flavour-filled coffee. Expertly roasted to produce flavours of smooth caramel and malt, Decaffé is the UK's best-selling decaffeinated roast and ground coffee.
Directions:
Add bag to a mug, fill the mug with boiling water, swirl the bag around, wait for two minutes to brew, squeeze the bag. Drink as is, or add milk to your preference.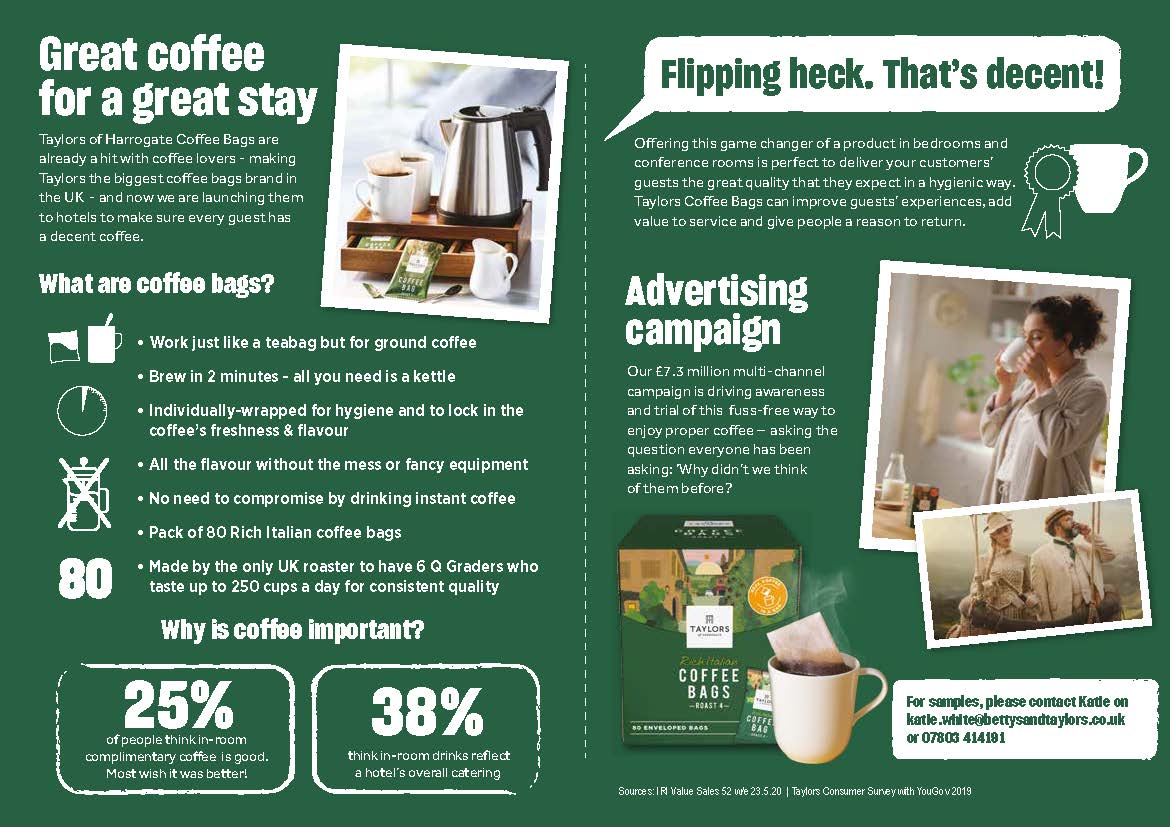 More Information

| | |
| --- | --- |
| Brand | Taylors of Harrogate |
| Roast | 4 Strong |
| Roast | 4 |
| Description Image | |
| Icon | Label | Description | Type | Size | Download |
| --- | --- | --- | --- | --- | --- |
| | Taylors of Harrogate | | pdf | 794.8 KB | Download |
Next Day Delivery
We deliver!
Free next working day delivery for orders in excess of £60 net to UK mainland locations via our chosen delivery partners DPD & APC.
We deliver to the Scottish Highlands, Northern Ireland and the Republic of Ireland plus all UK offshore islands but these may be subject to additional charges and a two day delivery service - please ask for further information
Why Shop With Us?
With hundreds of Fairtrade, Organic and sustainable products to choose from, we're your one stop shop for everything from sugars and coffee biscuits to descaling tablets and cleaning cloths!
Great everyday low prices on leading brands across our teas, coffee and equipment.