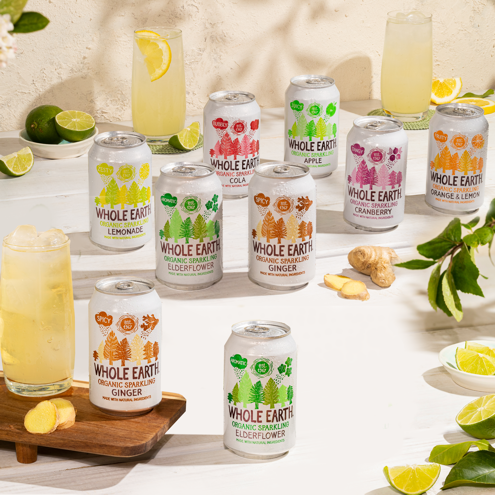 Sparkling Organic Canned Drinks from Whole Earth available for shipping by pallet - minimum 30 cases
Select code 720-008 for a mixed pallet - email info@kingdomcoffee.co.uk with your choice of flavours
Please call the office for more information 01189 868 786
Whole Earth Awarded Organic Drinks
Whole Earth sparkling thirst-quenchers are bursting with flavour – for drinking on the go or nice and slow.
A WHOLE EARTH APPROACH TO LIFE
Whole Earth is about more than just delicious, healthy food. It's also about what they call a Whole Earth approach to life – that means looking at the bigger picture, being open-minded, and having a can-do, collaborative attitude towards making change.
WHOLE EARTH ARE PROUDLY TEAMING UP WITH THE SUMATRAN ORANGUTAN SOCIETY.
Whole Earth teamed up with SOS to plant 20,000 trees, working to restore and protect the Sumatran rainforest, the only place in the world where orangutans, tigers, elephants and rhinos roam together in the wild.